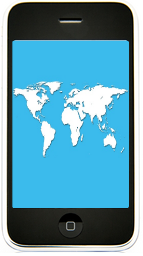 Navigator Mobile
Navigator® Mobile brings the power of CTI Navigator to your mobile device. Optimized to work on your smartphone, Navigator Mobile allows you to search for your property listings no matter where you are; whether it's in the office, at home or out in the field.
Navigator Mobile is available for all of our customers whether they are using Navigator Web or Navigator Desktop.
Cross Platform
Navigator® Mobile is built as a mobile webpage, rather than a platform dependant application. This allows it to be accessed from any PDA, smartphone or tablet device (Blackberry, Mobile 7, Android, Iphone, Ipad, etc.). Navigator Mobile is accessed through your mobile devices browser, so no physical download is required.
Features
Wildcard Searching
Searching is fast and easy with wildcard searching. This allows you to search properties, agents, offices, etc. using the first three letters of the name. When your in a rush or a street name is long, just type in the first three letters and Navigator Mobile will return all the results corresponding to those letters.
Integrated with Navigator Web
Navigator Mobile is seamlessly integrated with the Navigator system. If you are also using Navigator Web, your client data from the Navigator Web system is automatically available for your convenient use when your out of the office.
Email
Email your customers from within Navigator Mobile. Since it is integrated with the Navigator Web system, your clients email information is automatically available for you to access. Email buyer reports, etc. to your clients even when you are away from your computer. The emails are sent using our email servers not over your mobile devices data plan, saving you money.
Property Characteristics
Property characteristics are not scaled down within Navigator Mobile. See all the characteristics you would normally see within Navigator Web or Navigator Desktop.
Mapping
Navigator Mobile will plot your property searches on a map and also provide turn-by-turn directions on how to get there.
Other Features
Search by Street, Property Type, Price, etc.
Search for Agents
Search for Offices
Hot Sheets
And many more...